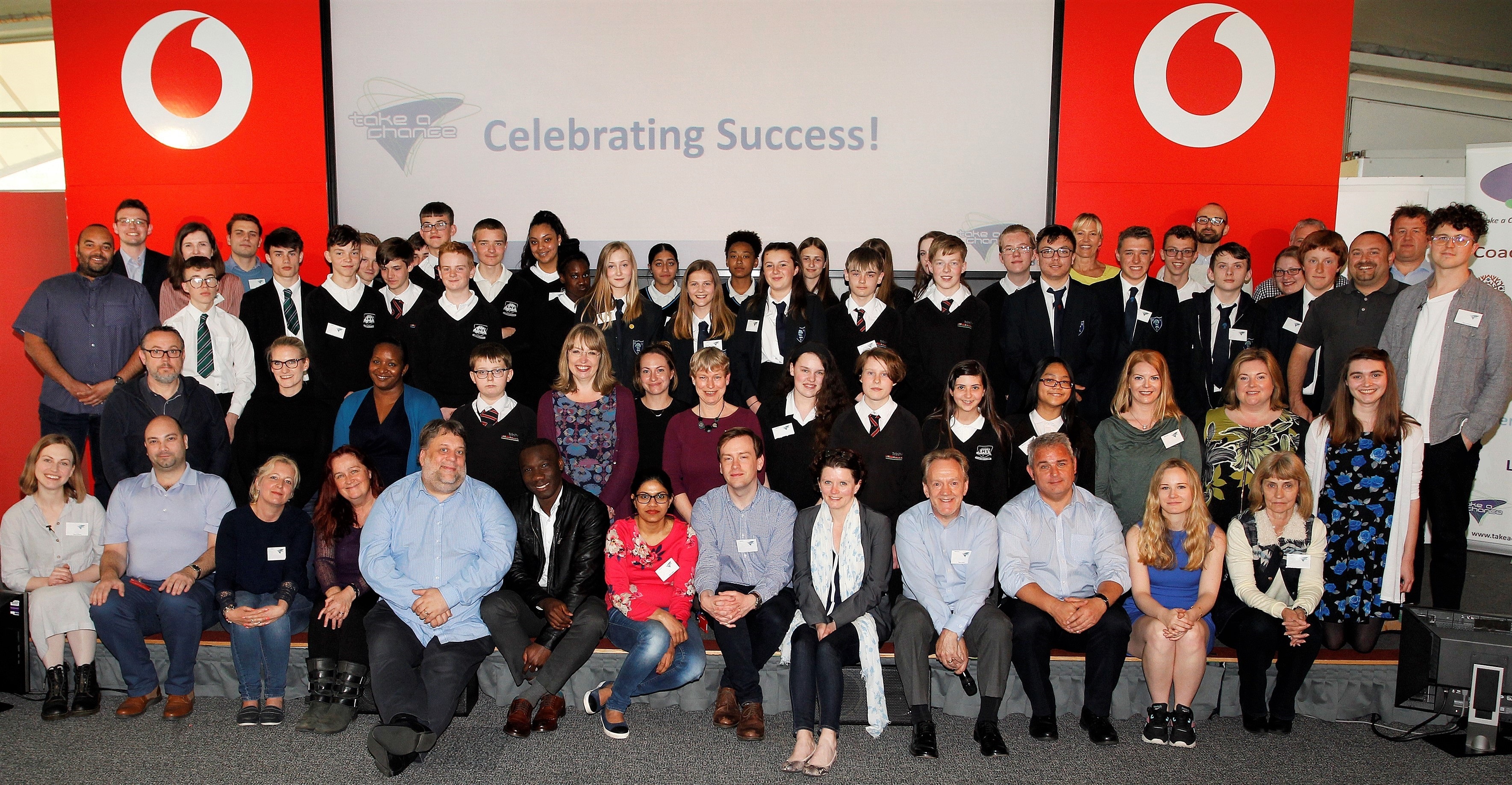 Take a Chance – Students' Graduation
Students recently celebrated their successful participation in the 2018-19 Take a Chance Programme with Vodafone volunteers who have supported them through a series of workshops and mentoring sessions at Vodafone Newbury HQ. This graduation also marked the completion of 12 fantastic years of Education Business Partnership (EBP) delivering the programme with funding from the Vodafone Foundation (UK registered charity 1089625).
Since Take a Chance launched in 2007, it has benefited over 5,500 students through in-school workshops and annual Skills Days from which more than 600 have been selected for the full programme. These students were given a unique opportunity to leave the classroom behind for visits to Vodafone's innovative technology hub in Newbury. The programme has consistently achieved its aims to build students' confidence and raise their aspirations, improve their work-related skills and awareness of future career possibilities. To date, an impressive 11,600+ volunteering hours have been dedicated by over 400 Vodafone 'Buddies', many signing up year after year to inspire young people to take on challenges, to believe in themselves and achieve more. One Buddy said: "It's very rewarding being able to guide some very talented young stars of the future and to use my experience to help my local community." It is a, "fantastic opportunity for students to learn essential skills" and a, "great initiative – making a real impact in the life of young people."
Students clearly value the opportunity of working with business volunteers and their peers from other schools with one participant confirming that Take a Chance, "Improved my skills and helped me discover the self-confidence I didn't know I had."
Looking ahead, we will continue to work with Vodafone employees and other business volunteers on further exciting projects.
Find out about our new initiative Hi-Tech Horizons
To find out more about how you/your business can work with us to inspire our future workforce and support young people, please contact us.