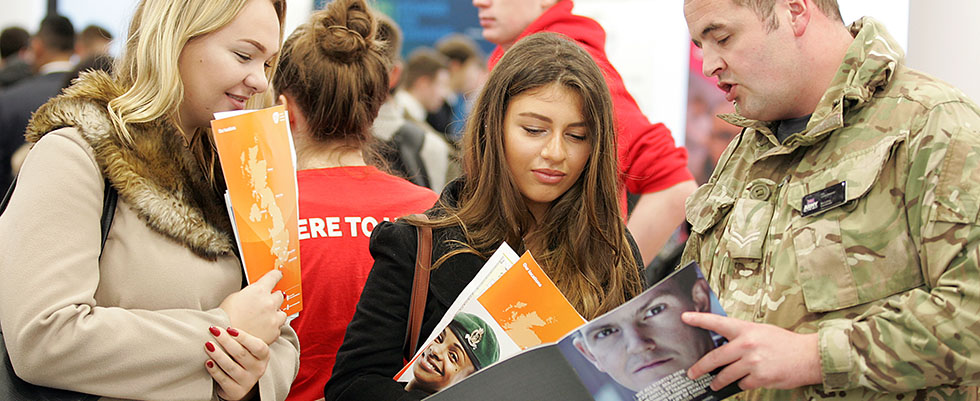 What are Careers Fairs?
Our Careers Fairs can range from a large-scale event at a central location with many businesses, school students and job seekers attending. To smaller-scale in-school events aimed at a specific business sector.
Careers Fairs provide the perfect opportunity for businesses to raise their profile with our future workforce, inform young people about the opportunities within the organisation and showcase the different routes available. These events enable young people to gain invaluable real-life interactions with businesses. They inspire and motivate as well as showing the immense diversity of jobs and career paths available to them.
Large-scale events
Jobfest
We were delighted to be Swindon Borough Council's chosen partner for JobFest Swindon. This year's event took place on 6th March 2018 at STEAM in Swindon. JobFest is a large-scale careers event attended by over 60 businesses and 800 students and job seekers.
To find out more visit: www.jobfestswindon.co.uk
Destinations
Funded by The Careers and Enterprise Company, we delivered large scale, interactive Careers Fairs events in Reading, Swindon and Windsor. These events helped to inspire and motivate over 3,500 students and were attended by over 150 businesses.
Our Destinations events produced impressive feedback:
81% of young people who attended said that the events had opened up their eyes to career
options available.
74% said the event would influence their career choice.
65% of students said the events increased their knowledge of apprenticeships.
74% said they were interested in an apprenticeship as a result.
98% of exhibitors said they would attend another Destinations event indicating the value they gained from the events too.
Small-scale events
In-school Fairs
Students engage with a range of businesses, from a wide variety of sectors, and local colleges within a 'speed dating' format. Students have time with each organisation followed by extra time where they can talk, in depth, with any business or training provider that they were particularly interested in.
Contact us
To find out more about how your business can get involved with our Careers Fairs or how we can help your business, school or college inspire, develop and motivate our future workforce, please contact Jane Grunseid.
Phone: 01635 279271 or email us