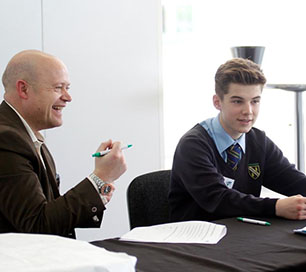 In partnership with Study Higher, we are busy delivering twenty of our Financial Awareness workshops, across the Thames Valley and Swindon, to inform young people about the true cost of living once leaving school.
At a recent visit to Swindon Academy, we showcased to Year 12 and 13 the cost of going to university and busted some myths regarding student loans and affordability. Business volunteers from Metro Bank, Nationwide and Vodafone were on hand to offer their experience and expertise to help guide students through discussion and workbooks.
One student said,
This was a good experience and helped me understand student loans, think about my future and how to budget to afford my chosen lifestyle."
With seven workshops already delivered we have helped inform over 500 students with these essential life skills.
One volunteer said,
This was a really worthwhile event, and I wish I had similar guidance at school."
We have all twenty workshops booked in, so watch this space as we continue to deliver this impactful workshop and reach many more young people.